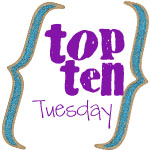 I've been feeling super crafty lately, like fabric crafty but I need more fabric...I wish I was feeling scrapbook paper crafty because I have a ton of scrapbook paper (thanks mom!) and then there would be more pages in my 14 month old's scrapbook than just the one of her baby shower from the summer of 2009.
Here are the top ten crafts that I have bookmarked to do. At some point. When I have more fabric.
1.
Rolled Flower
s
from Snazzie drawers (the tutorial link is in her right sidebar)
2. Fitted cloth diapers, haven't decided on a pattern as of yet but have been looking at several.
7.
Yo-yo's
would look great with some rolled flowers.
8. So what if it's a
Valentine craft
? A cute wreath is still a cute wreath right?
Join the top ten fun with

Amanda